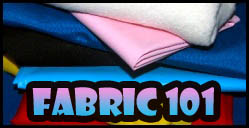 Commonly used fabrics and places to find them: 

Cotton:
- Natural fabric, soft and comfy!
- Bleaches and dyes well, 
- Easily wrinkled, but iron-able
- No sheen/shine
- Can shrink in the dryer after the first wash
- Easy to sew
This is my fabric of choice for any costume that I need to dye or bleach. I always pre-wash and dry the fabric before working with it since it can shrink. Washing also helps the fabric lose any crap that could hinder dyeing. If I'm not completely focused on dying, I'll often got for a cotton/polyester blend to help reduce the wrinkle problem. I have found that these blends do hold some color when you dye them, but it's much less concentrated of a color than if it were just 100% cotton. 

If you use 100% cotton fabric, expect to iron your costume before EACH wear.

Examples: Songstress Rikku, Nyanko Dress

---
Polyester:
- Resists wrinkling
- Resists dye and bleaching
- Shrink-resistant
- 

Polyester holds pleats well (so it's great to use for a pleated skirt!). It's a very sturdy fabric that is great to use for multiple things. I tend to use polyester if I don't need to bleach or dye the fabric. 

Examples: White Mage Rikku, Sasami (Polyester/cotton blend), Dejiko (polyester/cotton/spandex blend for dress)



---

Spandex:
- Stretchy
- Light-weight and durable
- Dye-able

Great to use in body suits and just about anything you need to stretch. This fabric is often blended with other fabric types such as cotton or polyester which gives a semi-stretch fabric. 

Examples: Jill Valentine (spandex/cotton blend for shirt), Lilith sleeves (Spandex/cotton blend), Alchemist Yuna sleeves and red bodysuit.
---
Satin:
- sheen
- iron-able
- most types I have found to wrinkle easily (except casa satin from Joann's)

I tend to stay away from most satin fabrics as they tend to look very shiny in photos and wrinkle easily. However, one type that I LOVE to use is Casa satin from Joann Fabrics!  It's thicker, comes in a variety of colors, and I love how it photographs. It's a great solution if you're making a more formal costume that you'd like to have a little sheen but not OMG SHINE LIKE A NUCLEAR POWER MELTDOWN when a camera flash goes off.
Casa satin is a polyester satin, so it can take a lot of heat, considering the fact that I used an iron to place the duck on the back of my Quackers jacket. However, that also means that you can not dye it with most fabric dyes. There is a dye for polyester fabrics, but I have never tried it.

Examples: Quackers jacket, train, and leggings (low-sheen bridal Casa satin), Princess Peach, Hatsune Miku pleated skirt
---
Vinyl/pleather

- Gets visible holes from sewing and/or ripping out seams
- Can not be ironed 
- Generally very strong
- Tons of variations in thickness, texture, sheen, and color
There is a lot of variety of this stuff. It comes in non-stretch, semi-stretch, and stretch. It's great to use in the place of real leather if you don't want to shell out the cash for the real stuff just for a costume. I love vinyl - I think it looks really sleek on costumes when used in the right places. The higher the quality, obviously the higher the price. I go for more expensive matte vinyl as it makes a HUGH difference in how they look. A lot of the matte vinyl I have worked with has also taken paint very well, a good example of this is my Alchemist Yuna costume. I used the same white vinyl for the side-skirt and the parts strapped around my torso - each of those different colored pieces were just painted using regular acrylic paints. 


Examples: Alchemist Yuna (painted vinyl), Penelo, Hatsune Miku shirt, Lilith bodysuit and wings (two-way stretch pleather)

---

Silk:
- Most types have a high sheen
- Very soft and smooth
- Wrinkles
- Dye-able
- Stronger natural fabric you can get
- Weakened by sunlight and sweat
- Gets water spots from being wet-should be dry-cleaned.

I tend to stay away from using real silk in my costumes. I don't want to have to worry about getting it wet or dry-cleaned, and it can get a bit too pricey for me.  I don't have a lot of experience with this fabric in my own costumes. Instead, I love to use Casa Satin for more formal things. It's not super shiny in photos, and it's pretty easy to work with!
---

Acetate:
- Resists wrinkling
- Doesn't absorb moisture readily, dries fast
- Shrink-resistant
- has sheen 
- May melt with an iron
- Also melts with nail polish remover and alcohol

Used commonly to line garments. I don't recommend using it as the main fabric of a costume since it is so sensitive to chemicals and tends to look very shiny and thin to me. I rarely ever use this fabric, so I don't have much experience with it. I think I may have used it once or twice to line the inside of armor.


Places to buy fabric:

** Always give yourself enough time in advance when ordering fabric online. Stores vary with shipping times. Also, I HIGHLYsuggest ordering swatches before ordering online - colors tend to look different on your monitor, and it's difficult to get a feel for the texture through a photo. Most websites offer free swatches or at least at a low cost. 

Joann Fabrics
Hancock Fabrics
Spandex House
Distinctive Fabric
Fashion Fabrics Club
Mendels
Denver Fabrics